Emergency Preparedness
For more information on how you can be prepared for any type of emergency, click here for the FEMA Community Preparedness Guide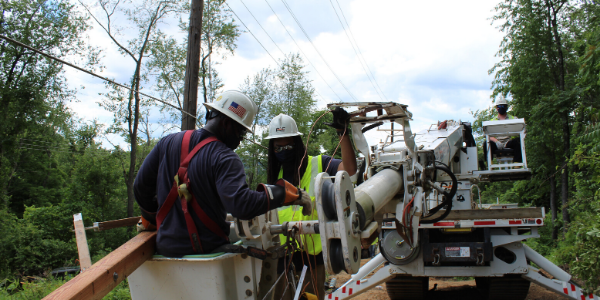 Be Prepared: High Temperatures Can Cause Power Outages
High temperatures are expected to continue throughout the week. Even in the absence of a storm, extreme heat can cause power outages. Our top priority is providing safe and reliable power to the region. To prepare, we're increasing our staffing so crews can respond to outages as quickly and safely as possible. While we're doing everything we can to ensure you don't lose power, we're here to help you prepare in the event you do experience an outage.
HOW YOU CAN PREPARE
Take a few, simple steps to help prepare in the event of an outage:
Make sure your cell phone, tablet and other electronic devices are fully charged.
Keep supplies in an emergency preparedness kit. Include water bottles, non-perishable food, blankets, first-aid supplies, flashlights and a battery-powered radio.
Avoid opening the refrigerator or freezer. Food will stay frozen in a fully loaded freezer for 36-48 hours if the door remains closed.
Check refrigerated medication to determine if it will be affected by a prolonged interruption of power. Consult a doctor if you aren't sure. Consider keeping a small cooler handy for special medication use. Also, be sure medical equipment has the appropriate back up for continued use.

REPORT AN OUTAGE
If you experience an outage, please don't assume DLC is aware. Let us know!
Ways to Report an Outage:
The fastest way to report an outage is by visiting our website or on the free DLC Mobile App, available from the Apple Store or Google Play.
If you don't have internet access, please call Customer Service by dialing (412) 393-7000.
Visit the Outages & Safety section at DuquesneLight.com for additional outage information including: Current Outages, Restoring Power, Electrical Safety and more.
Be sure to follow our Facebook and Twitter pages for up-to-date alerts regarding outages in the area. The DLC Team is here to assist you!

EMERGENCY CONTACTS
If you or a loved one has a medical condition that will be impacted by an outage, call 9-1-1.
Be sure to check on your neighbors. They may not be able to report an outage or call emergency services if they have lost power.